Waking Titan/Phase 3
From Game Detectives Wiki
Main Page > List of Investigations > Waking Titan > Phase 3
Note: This page will always have the most thorough and complete documentation of Phase 3 of the Waking Titan ARG. However, if you just want a fast, easy way to get up to speed, we suggest you take a look at the main Waking Titan page, which is much more concise.
Phase 2 began on 2017-08-06.
Third Calibration
On August 6th, the live stream screens switched to the following arrangement: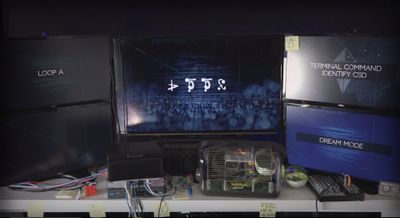 Inputting IDENTIFY CSD into the Waking Titan console redirects the player to a new pdf, containing the instructions for the third calibration sequence.