Waking Titan/Phase 5/Dreamers/Isabella
From Game Detectives Wiki
Main Page > List of Investigations > Waking Titan > Phase 5 > Dreamers > Isabella
Isabella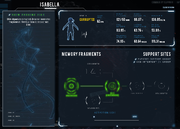 On July 12th, at 23:56 UTC, the Status command on the Waking Titan console updated to return:

Attempting to connect Dreamer 1/1 to the dashboard.

At 00:01 the next day, the command returned:

Dreamer succesfully connected to the dashboard.

Simultaneously, Emily posted Isabella's Reddit Patient Support Thread.
Isabella's full patient file can be found here.
The CSD compiled a Summarisation of Isabella.
Memory Block I1
Memory Block I1 was active upon Isabella being connected to the dashboard. Clicking the block displayed:

Car Simulation ready. Initializing connection with Isabella.

Dreamers current state: Joyful.

Isabella is someone who is very sociable. You'll never run out of things to talk about with her. All in all, she seems fun to be around.

The activation code was
Route 66
Additional Information
During the Element 6 and Extraction countdown, two slides of new information about Isabella were shown.
Death
On July 20th, at 19:18 UTC, the status command on Waking Titan changed to return:
Warning: Multiple Errors

Moments later, The dashboard showed that Isabella had died.