Waking Titan/Phase 5/Dreamers/Mike
From Game Detectives Wiki
Main Page > List of Investigations > Waking Titan > Phase 5 > Dreamers > Mike
Mike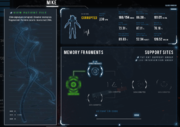 On July 3rd, around 20:00 UTC, the Waking Titan console updated to return:

Attempting to connect Dreamer 1/1 to the dashboard.

A few minutes later, the command returned:

Dreamer succesfully connected to the dashboard.


Simultaneously, Emily posted Mike's Reddit Patient Support Thread.
Mike's full patient file can be found here.
The CSD compiled a Summarisation of Mike.
Memory Block M1
Memory Block M1 was active upon Mike being connected to the dashboard. Clicking the block displayed:

Boat Simulation ready. Initializing connection with Mike.

Dreamer current state: Aggressive.
Mike is not in a good mood. I had hoped he would be calmer by now

The activation code was
Divorce
Additional Information
During the Element 6 and Extraction countdown, two slides of new information about Mike were shown.
Death
On July 20th, at 19:18 UTC, the status command on Waking Titan changed to return:
Warning: Multiple Errors

Moments later, The dashboard showed that Mike had died.