Waking Titan/Phase 5/Dreamers/Tariq
From Game Detectives Wiki
Main Page > List of Investigations > Waking Titan > Phase 5 > Dreamers > Tariq
Tariq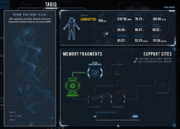 On June 26th, 19:35 UTC, the Waking Titan console updated to return:

Attempting to connect Dreamer 1/1 to the dashboard.

5 minutes later, the command returned:

Dreamer succesfully connected to the dashboard.

Simultaneously, Emily posted Tariq's Reddit Patient Support Thread.
Tariq's full patient file can be found here.
The CSD compiled a Summarisation of Tariq.
Memory Block TA-1
Memory Block TA-1 was active upon Tariq being connected to the dashboard. Clicking the block displayed:

Crime witness Simulation ready. Initializing connection with Tariq.

Dreamer current state: Withdrawn.

This one have a very incomplete dreamer profile. This is kind of weird.

The activation code was
W/are tech supervisor
Death
On July 6th, moments after the status command informed players that W/ARE's malicious elements had been removed from the servers, Tariq's status was changed to SUBJECT DECEASED. It was assumed that his death was in some way related to all W/ARE processes being quarantined and Tariq being a W/ARE engineer.
Additional Information
During the Element 6 and Extraction countdown, two slides of new information about Tariq were shown.