Banojxot Xuh
From Game Detectives Wiki
Banojxot Xuh
15-6-17
Type
Unofficial
Creator
Unknown
Discovered
2017-05-13
Main Page > List of Investigations > Banojxot Xuh
Backstory
Banojxot Xuh was a YouTube ARG that was posted to several country-themed subreddits, and appeared to have a strong political focus. It contained many codes hidden throughout the videos and references to Slovakia along with a strong focus on the date June 15th, 2017.
Originally, the video was posted in the England Subreddit but the user was banned, the post and the video deleted.
Then, on May 13th, an image was posted in the Slovakian Subreddit by an user called /u/Banojxot (same as the YT channel) featuring a QR code that leads to a video with the words "Get Ready" in red and the date 15.6.17, or June 15th, 2017.
Later, on May 18th, the user /u/Hamburger__96 posted a photo of a sort of flyer featuring the same image posted in r/Slovakia and the number 0023 handwritten in the back in the Germany subreddit. It is speculated that /u/Hamburger__96 was the same person behind the Banojxot account on Reddit, although this is still unclear.
Videos
First Video: "15-6-17"
On May 13th a YouTube video was uploaded by Banojxot Xuh called 15-6-17. The video had the tags of, scoddD, c432.657.33., 16.6294.22.30, 177.947.29.0, be, C A R E F U L, the-y, are, read-y, and Y.y.
1:00
A set of coordinates for locations emphasizing a Slovakian connection. The background image is a picture from this book with the quote of, Desolate be Tara for ever and ever!. This is a story from Ireland, on how a hill, Tara, was unremarkable, yet magic. It was a pagan monument to crown the king. In 558 A.D. a saint dispelled Tara of its function as a pagan place of worship, and brought Christianity to Ireland. However, the places located at these coordinates aren't very remarkable.

1:04
A set of coordinates that point to Slovakia background is a picture from this book with the quote of, Desolate be Tara for ever and ever!.
---
Second Video: "15-6-17 .v2"
A second video was uploaded on the 21st of May, called 15-6-17.v2. The tags of the video are, 383, slovakia, poland, germany, and 0.23451.734.
Third Video
A third video was uploaded on May 24th, 2017.
In the video you can find 3 flashes of QR Codes, nearly all of which are the same.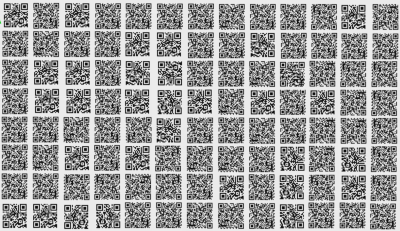 All but one would redirect to Banojxot's Youtube or Twitter, and the other one lead to a page in which it showed an image similar to the images sent in emails.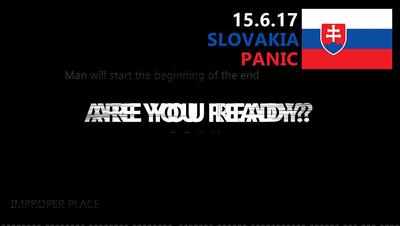 Fourth Video "LAST WARNING"
Banjoxot uploaded another video titled "LAST WARNING". [1]
This video contains footage of Nice truck attack in France, Kabul bombing attack, and truck attack in Berlin, Germany Christmas market. It also contains text reading "ONE DAY WILL CHANGE EVERYTHING". 15.6.17, and "BE READY". It also contains a picture of the Serbian flag.
Fifth Video: "ARE YOU READY?"
This video, posted on June 12th, 2017, consists primarily of footage of Canadian Geese flying. During the early part of the 0:07 second video, an equation is shown superimposed over footage of a human hand. The audio of the video turned out to be a spectrogram, revealing a bit.ly link. The bit.ly link leads to this zippyshare page, which contains a single image of several, numbered people around a van with certain parts highlighted in red. In the upper right is the text "x8x."
Emails
Emails were sent out and Banojxot Xuh replied with a variety of similar images. We currently are ordering based off of the amount of people written on the picture. Almost all have a Slovakian flag and a variant of 15.06.2017. in the flags there is also a fineprint in pale greyish text: sn & id --> "sine nomine & idem" (without name & the same)
Email #1
The coordinates in order point to these locations,
1. An alley in Tacoma, Washington.
2. In the middle of Hamburg, Germany in what looks like a massive shopping mall.
3. Just south of Metsla, Estonia.
4. Egegik Bay in Egegik, Alaska
5. In the Waal river, Central Nijmegen, Netherlands.
6. Centre Dortmund, Germany. Another shopping centre by the looks of it.
Has blue and red text that reads, SloVakia is a riddle wrapped in a mystery inside an enigma. This is part of a quote from Winston Churchill: "I cannot forecast to you the action of Russia. It is a riddle, wrapped in a mystery, inside an enigma; but perhaps there is a key. That key is Russian national interest." The emphasised V might point towards the "V for Victory" handsign Churchill was known for. The text on the bottom says one person in black on the bottom.

Email #7
Has the same coordinate locations as Email #2
Yellow text reads, no object is mysterious, the mystery is your mind, a wrongly quoted proverb that means that any misunderstanding you might have in looking at something is because of you, not it. Black text on the bottom reads, seven people, the text has a yellow back to it, and a blue line comes up from left of the seven people text.

Email #8
The QR code leads to the Banojxot Xuh Youtube Channel.
The picture references V-J Day in Times Square.
The vehicle is a Ford Transit (2005). The reference might point towards a certain terror attack by the IRA where a white Ford Transit was used as a mortar platform.
gdrggvi.xln/yzmzcfs is an atbash cipher that is the Banojxot Xuh twitter. It is also notable that the north-western and mostly central part of Europe is cut out the map in the background. In the background map, it is missing Central Europe (France, UK, Germany, Belgium, Netherlands, etc.)
Twitter
The e-mails show us this twitter account through an atbash cipher in Email #8.
Tweets
Date & Time (EDT)
Content
Notes
1:10 PM - 21 May 2017
You aren't here by accident~B
Introduction to Twitter.
1:13 PM - 21 May 2017
51°50′45″N 16°34′50″E
Location 1: rondo Solidarności, Leszno, Poland. (Note that this means "Solidarity Roundabout")

Location 2: Professor Cornelissenstraat, Nijmegen, the Netherlands. (A street named after a Dutch academic)

Location 3: Steinstraße, close to the St. James Church, Hamburg, Germany.

1:19 PM - 21 May 2017
9ce09f56373a96112527aebe5af12f632bd8f0c40132dd76801ad3437e6fdb42 ~B
A hash that has yet to be decrypted.
1:21 PM - 22 May 2017
You need to think more
1:23 PM - 22 May 2017
Qt ake huyv frqg, ake wyl huyv uduhafrqls ~B
A substitution cipher that reads, If you read this you can read everything.
1:26 PM - 22 May 2017
15.6.2017, soon!
1:17 PM - 24 May 2017
look closer ~B
1:55 PM - 25 May 2017
https://t.co/foGUAI33Cw
1:56 PM - 25 May 2017
https://t.co/ErUYAlNdUI
1:57 PM - 25 May 2017
https://t.co/CkEW1YA1HQ
2:01 PM - 25 May 2017
https://t.co/L44uPIlJtV
2:01 PM - 25 May 2017
gun and fern flower ~B
4:12 PM - 27 May 2017
https://t.co/8O4DxlLr4p
1:11 PM - 29 May 2017
Normal is an ilusion. What's normal for the spider is chaos for the fly.
8:51 AM - 30 May 2017
I hate plagiarism http://bit.ly/2qxIhlB <Definitive fake ~B

ps. x8x

1:55 PM - 31 May 2017
Now, personally, I like a car with some sort of c h a r a c t e r.
3:37 AM - 4 Jun 2017
I know of no time in human history where ignorance was better than knowledge.

- http://banxuh.ga -

10:52 AM - 6 Jun 2017
In a dark time, the eye begins to see.

Be careful. http://banxuh.ga ~B

12:42 PM - 8 Jun 2017
Are You For ME or For OUR Enemies? ~B

banxuh.ga

3:32 AM - 11 Jun 2017
4.>>>
6:58 AM - 12 Jun 2017
I wanted to help you, but it's too late. 15-6-17 ~B
3:48 AM - 15 Jun 2017
http://banxuh.ga  :(
3:57 AM - 15 Jun 2017
3 Non-ARG Related, but tragic retweets