File:Signal 4 SSTV.png
From Game Detectives Wiki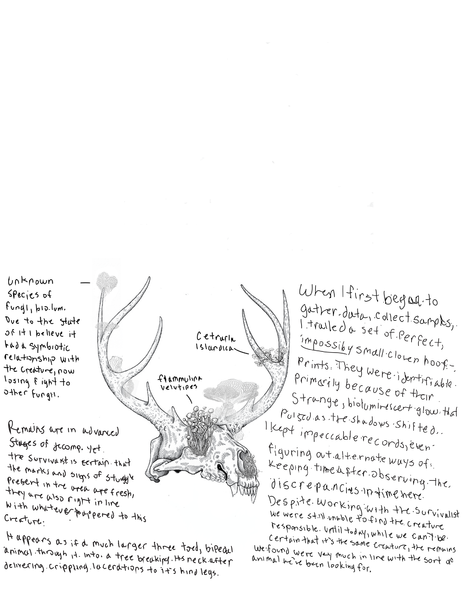 Original file
‎
(1,582 × 2,048 pixels, file size: 924 KB, MIME type:

image/png

)
Incomplete image of the SSTV signal captured with Signal 4 off of False Point.
Transcript
Unknown species of fungi biolum?. Due to the state of it I believe it had a symbiotic relationship with the creature, now losing fight to other fungi.
Remains are in advanced state of decomp. Yet the survivalist is certain that the marks and signs of struggle present in the area are fresh, they are also right in line with whatever happened to this creature.
It appear as if a much larger three toed, bipedal animal through it into a tree breaking its neck after delivering crippling lacerations to its hind legs.
When I first began to gather data, collected samples, I trailed a set of perfect, impossiby small cloven hoof prints. They were identifiable primarily because of their strange, bioluminescent glow that poised as the shadows shifted. I kept impeccable records, even figuring out alternative ways of keeping time after observing the discrepancies in time here.
Despite working with the survivalist we were still unable to find the creature responsible. Until today, while we cant be certain that its the same creature, the remains we found were very much in line with the sort of animal we've been looking for.
File history
Click on a date/time to view the file as it appeared at that time.
You cannot overwrite this file.
File usage
The following page links to this file: