Waking Titan/Phase 5/Dreamers/231187661T
From Game Detectives Wiki
Main Page > List of Investigations > Waking Titan > Phase 5 > Dreamers > 231187661T
#231187661T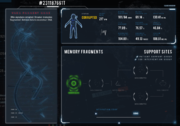 on June 15, 22:00 UTC, Emily posted #231187661T's Reddit Patient Support Thread.
The CSD compiled a Summarisation of #231187661T.
#231187661T was initially unreachable due to all files being corrupted. After the dreamer became available, players discovered a log entry within No Man's Sky that was presented to players at the very start of the game:

SCENARIO: Iteration #231187661T [ Transferred | Deleted ]. Probable boundary separation failure. Vessel [16] emptied. [Sentinel Intervention | Deliberate Transfer] Unknown. DIAGNOSTIC: ... // NO CONNECTION // ANALYSIS: [----] Awaiting Fresh Iteration. [Anomaly] Containment Prepared.

Additional Information
During the Element 6 and Extraction countdown, two slides, providing no new information about #231187661T were shown.
To this day, #231187661T remains trapped within the satellite, and the Citizen Science Division are still speculating on their identity.