Battlefield 1/Megalodon
From Game Detectives Wiki
Battlefield 1 - Megalodon
The Battlefield 1 Megalodon Easter Egg -
A shark on Fort de Vaux.
Type
Official
Creator
DICE
Discovered
2017-04-27
Main Page > List of Investigations > Battlefield 1 > Megalodon
This wiki page documents the megalodon Easter egg concealed in Battlefield 1, on the map Fort de Vaux. This page includes step-by-step instructions to activate the megalodon.
(Note: This Easter egg is at least partially disabled in password-protected servers and is partially disabled in pre-rounds!)
Records and Gramophone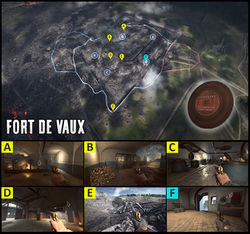 On Fort de Vaux, a vinyl record can be found hidden in 5 different places, pictured right. Much like the headphones, the records are indestructible and can be found on every server - only one record spawns at a time, in one of the 5 discovered spawn locations. These records were stationary objects until April 27, 2017, when the game was updated to allow the player to pick them up.
There is also a gramophone in the barracks. Bringing a record to the gramophones and pressing the interact button, it plays a muffled piano sound that can be viewed here. The song plays at 80bpm, with all natural notes. The song spans 4 octaves. Every note is repeated at least once. Using the French musical cryptogram, the message can be decoded as follows:
SO YOU ARE HERE FOR THE SECRET THAT LIES BELOW VAUX. MAKE SURE YOU ARE READY FOR THIS JOURNEY.
DO NOT THINK IT WILL BE EASY, AND DO NOT EXPECT ANY REWARD. ALL YOU WILL FIND IS DEATH.
A HINT; THAT IS ALL I HAVE FOR YOU, SO LISTEN CLOSELY:
THE MEN THAT LIVED HERE KNEW ITS SECRETS. SEARCH WHERE THEY RESTED WHEN THEY DID NOT WORK.

After bringing a record to the gramophone and listening to the music, an array of numbers and letters appears on a nearby book: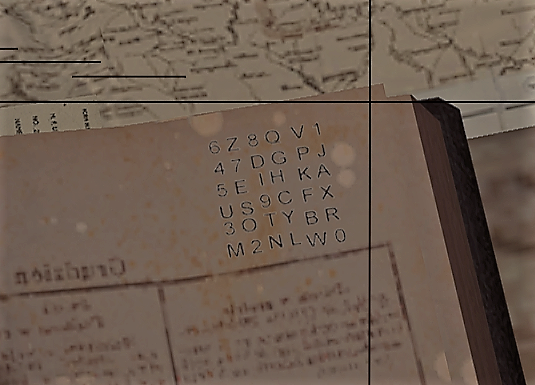 This array is actually a key square which was used, along with a keyword, to decipher 3 ADFGVX cipher later on.
Chairs and Morse
On Fort de Vaux, three different chairs were found. These chairs were where the soldiers here `RESTED WHEN THEY DID NOT WORK`, as per the musical cipher. When a player stands directly on one of these chairs, a blinking light appears in its line of sight. These blinks are Morse code. Once translated, all 3 of the messages contained a sequence of pairs of letters. Every sequence can easily be identified as an ADFGVX cipher due to the fact that the pairs are only composed of letters A, D, F, G, V, and X.
Using the key square that was discovered earlier along with various different keywords, these ciphers translate to phrases in German. The decoded phrases are instructions triggering the megalodon event.
Panel Room Chair
This chair is located between points A and C.
Morse decodes to:
FF DG DF DF VD FG GV FD FF FD FG FX FV FV GF GF GG FG DG VD VF XF XF VX VX FG XD FV VF FF FF XD FV DF GF XF FX FX FD FX XD DX FF FD VD FG DA GA FA GD DD FF XD GD VF GF DF FF DV VV VG FV DX FV GG VF VG XG FX GF AD VD VD FD DG FD DV DF VX

ADFGVX Keyword: DANIELAX
ADFGVX Plaintext:
DREITREUESEELENWERDENDABENOETIGTWOESOFFENSICHTLICHISWOESDUNKELISTUNDTIEFIMPRECK

ADFGVX translation:
Drei treue Seelen werden da benoetigt, wo es offensichtlich ist, wo es dunkel ist und tief im Dreck.

German to English:
Three faithful souls will be needed where it's obvious, dark, and deep in the dirt.

Ammunition Depot Chair
Morse decodes to:
GF DV DG XG AF XV XA FF XF DD XV DG DX DG FV VX DX VF VD AA FG VA XX FG VX VF DG AF XG GV FF DF GF VF VF GV GD XV FG FD XX

Direct ADFGVX translation:
ADFGVX Keyword: ODEGO
ADFGVX Plaintext:
LABETEDORTSOUSVAUXSEULLEBRUITLAREVEILLERA

Formatted ADFGVX translation:
La bête dort sous Vaux. Seul le bruit la réveillera.

French to English:
The beast sleeps under Vaux. Only noise will wake it up.

Kitchen Chair
Morse decodes to:
VG GV FF XX VV VF FF FV GF DX XX FF DX DX VF GF DF FX FF DV DV FG DF AF DF GG XX VV FF FX VF XF GF FV XF XD GX AD DX GF GG GV FX VD XD FG VV VD FG

ADFGVX Keyword: BFEEISLOVE
ADFGVX Plaintext:
BRINGSACRIFICESTILLTHEWATERTURNSREDMAKEITPERSONAL

Properly spaced:
Bring sacrifices till the water turns red. Make it personal.

Waking the Megalodon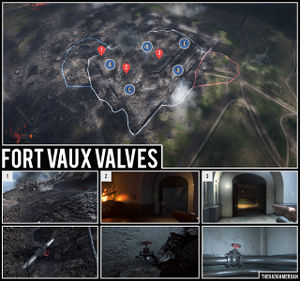 On Fort de Vaux, three turnable valves can be found. One valve is in plain sight, one is somewhere dark, and one is buried underneath the dirt, only accessible by explosives. These valve locations are hinted at by the first solved ADFGVX cipher:
Three faithful souls will be needed where it's obvious, dark, and deep in the dirt.

If 3 players coordinate to turn these 3 valves at the same time, a puddle fills up near point C. Any type of anti-tank or frag grenade must then be thrown in the hole near B point, hinted at by the second cipher:
The beast sleeps under Vaux. Only noise will wake it up.

Finally, the third cipher mentions sacrifices:
Bring sacrifices till the water turns red. Make it personal.

Accordingly, after three soldiers are melee-killed inside the puddle created by turning the valves, the puddle turns red with blood. Waiting between 20 seconds and 2 minutes, while going to and away from the puddle, will make the megalodon jump out and kill whoever is standing in the puddle.