Battlefield 1
From Game Detectives Wiki
Battlefield 1
The Battlefield 1 ARG - an ARG that began with headphones and Morse Code.
Creator
EA Dice
Type
Official
Status
Active
Discovered
2017-02-14

Main Page > List of Investigations > Battlefield 1
This wiki page documents the easter egg/ARG that is hidden in Battlefield 1. This page includes step-by-step instructions to unlock the secret "A Beginning" dogtag. A full video explanation of the easter egg can be found here. Currently, the primary solving hub for this ARG is the Battlefield Easter Egg community, who have a wiki here and a YouTube channel here.
Headphones and Morse
1 pair of headphones is hidden on each map. The headphones are indestructible and can be located on every server, as long as they have not already been picked up. It appears that there are 5 spawn locations per map, although some of them remain undiscovered. The headphones can be picked up by any player by walking over them. Upon approaching a hidden MCOM station after having retrieved a pair of headphones, the player will hear some Morse code being tapped out. A player can carry only one pair of headphones at a time, and only the player wearing the headphones will be able to hear the Morse code when near enough to a hidden MCOM.
Headphone Locations
Here is is a series of images, made by RenegadeX5, which display headphone and MCOM locations on each map. In order to hear the Morse code, you need to pick up the headphones from one of the 5 locations on each map (you might need to check all 5 before finding them!) and bring them to the MCOM station.
(Note: you can click each image to get a larger version.)
When the headphones and MCOM stations were first discovered, the Morse code was meaningless gibberish. However, the contents of the Morse code changed in future patches.
November 15, 2016
On November 15th, Battlefield 1 received an update which changed the Morse code heard on all maps' hidden MCOM stations to the following:
.--. .-. . ...- .. --- ..- ... | -- . ... ... .- --. . | -.-. --- .-. .-. ..- .--. - . -..
.- .-- .- .. - | ..-. ..- .-. - .... . .-. | .. -. ... - .-. ..- -.-. - .. --- -. ...

PREVIOUS MESSAGE CORRUPTED
AWAIT FURTHER INSTRUCTIONS

Additionally, the patch changed the following things:
Ballroom Blitz had an MCOM station and headphones added to it, whereas pre-patch it was the only map with neither
The spawn locations of many headphones on most maps were changed
The above Morse message now plays on loop until the MCOM station eventually explodes, although this appears to be buggy
Once the MCOM station explodes, headphones stop spawning on the map
Dying after having retrieved a headphone will no longer cause a new headphone to spawn
Only one pair of headphones will spawn upon the initiation of a round on each map
February 14, 2017
On February 14, the Winter Update was released. The Morse code changed again, to the following message:
GO STRAIGHT TO <location_name>.  OLD METHODS COMPROMISED.  MUST ACQUIRE NEW KEY.  WILL MISS DROPOFF IF DELAY OR INCORRECT LOCATION.

Each user hears a different location name; locations are randomly assigned to players. There are 27 locations total: 3 locations on each of the 9 maps. In order to advance through the Easter egg, you need to know which location you are assigned; here is a tutorial (courtesy of Dunem) to help you read your Morse code. This is the list of locations, along with their respective maps, in alphabetical order:
AMIENS NEUF FURNITURE: Amiens
BALLROOM MAP VARENNES: Ballroom Blitz (Formerly ABBEY MAP VARENNES)
BUCKET MARSHLANDS FAW: FAO Fortress
CANAL KANTARA VASES: Suez Canal
CASTELLO ISLE ADRIATIC: Empire Edge
CHURCH RUINS AMIENS: Amiens
COASTAL FORTRESS ADRIATIC: Empire Edge
CRATE JABAL JIFAR: Sinai Desert
CRATE SEREN VENETIAN: Monte Grappa
CRATE TRENCH CANAL: Suez Canal
FERRO FIRE VENETIAN: Monte Grappa
HILL BARN ADRIATIC: Empire Edge
HILL TOWER CANAL: Suez Canal
HOTEL CHECK PERONNE: St. Quentin Scar
LONGUEVILLE STATUE AMIENS: Amiens
LUGGAGE BASEMENT APREMONT: Argonne Forest (Formerly LUGGAGE BASEMENT VARENNES)
OUTPOST BARREL FAW: FAO Fortress
PANEL WATER APREMONT: Argonne Forest (Formerly PANEL WATER VARENNES)
PILLAR OUTSKIRTS JIFAR: Sinai Desert
PILLOW MAZAR JIFAR: Sinai Desert
RUIN VENTURE PERONNE: St. Quentin Scar
STATUES GARDEN VARENNES: Ballroom Blitz (Formerly STATUES GARDEN APREMONT)
STOVE TURRET VENETIAN: Monte Grappa
TRAVECY ATTIC PERONNE: St. Quentin Scar
TREE FORTRESS FAW: FAO Fortress
TREE TRAIN APREMONT: Argonne Forest (Formerly TREE TRAIN VARENNES)
VARENNES SERVANT BED: Ballroom Blitz (Formerly APREMONT RITZ BED)
The message will repeat until you move away from the MCOM station, at which point the MCOM will explode. Each of the locations mentioned above has a symbol near it.
Symbols
The first symbols discovered at each location are difficult to find; they are small double arrows pointing to the left and right, and only appear when the player comes within 0.4 meters. A player will typically need to crouch or go prone in order to be able to see their symbol. Additionally, players can only see the symbol at the location they've been "assigned" to. When examining a symbol up close, a distinct sound is played (video). Pictured below are all 27 symbol locations, sorted by the map they appear on (maps made by Darrel).
NOTE: If you're having trouble finding your location with the images below, Jambajeww has made a video guide for all 27 locations, with timestamps for each location in the description of the video.
Second Message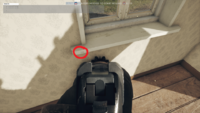 After a player discovers their symbol, returning to an MCOM station with headphones yields another message in Morse code. Additionally, the MCOM's lights glow yellow instead of their usual white when broadcasting this message. The message starts with one of the above location names, but reversed:
<reversed_location_name> REMEMBER FIRST RULE. IF COMPROMISED L PILL.
An L PILL is short for lethal pill, a pill intended to be taken by soldiers to commit suicide rather than be tortured. Visiting the specified reversed location, the second location, yields a triangle symbol in place of the normal double-arrow symbol. The second symbol appears in the exact same spot that the first symbol may appear for other players.
Third Message

After a player discovers the triangle symbol at their second location, returning to an MCOM station with headphones yields another message. This time, the MCOM lights glow purple. Here's the text of the message:
<atbash_cipher> SECOND RULE. SIGHTING. REPORT AND WAIT. INVESTIGATING ALONE COULD LEAD TO DEATH
Solving the Atbash cipher in the message yields another location from the list above. Visiting the third location leads to an arrow symbol pointing right.
Fourth Message

Returning to an MCOM station after discovering the third symbol yields yet another message. This time, the MCOM lights glow green (previously, they glowed white, yellow, and purple for the first, second, and third messages respectively). Here's the text of the message:
<rot_cipher> THIRD RULE. IF TAKEN BY THE OTHERS DISCOVER MEANS TO COMMUNICATE TO HOUSE
Solving the ROT cipher with a key of 7 (N = 19) yields another location from the list of locations, leading to a fourth symbol, which is shown on the right.
Fifth Message

After finding the fourth symbol, the MCOM's light colour turns transparent. This message begins with an location from the list of locations, reversed and encoded with the Railfence cipher, with 5 rails, and 0 offset. (Note: Some players report rails 5 offset 0 does not yield cleartext. The ciphertext must be reversed before it is input into the railfence ciper to get cleartext with rails 5 offset 0. Otherwise, the player will need to use rails 5 offset 6. Try each method until you get something legible.) Note that the previous symbol, the fourth symbol, is in the shape of a fence, which may be interpreted as a hint for the correct decryption method for this cipher (railfence cipher). Here's the format of the message:
<rail_fence> FOURTH RULE. KILL ALL ON SAME TRAIL. REMOVE DOG TAGS AND REPORT TO HOUSE
The fifth symbol is a pattern of broken and unbroken dashes.
Note: the cipher on this stage can also be solved as an anagram.
Sixth Message

After finding the fifth symbol, the MCOM's lights turn to an orange colour. Here's the content of the sixth message:
<double_cipher> MORSE MESSAGES BEING INTERCEPTED. BEGINNING FULL ENCRYPTION SOON
The "double_cipher" is comprised only of single dots and single dashes: E's and T's in Morse code. The cipher can be solved by converting the transmission into A's and B's, where A is a dot and B is a dash. Then decode the ciphertext (AABBABABBAA etc) using a Baconian cipher, then decode the output of the Baconian cipher with an Atbash cipher to obtain another location from the list.
Visiting the sixth location yields the sixth symbol: a series of horizontal and vertical lines with the name "EDWARD" prominently featured between them.
Seventh Message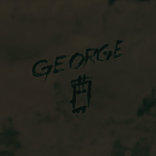 After finding the sixth symbol, the MCOM's lights turn to a pink colour. Here's an example seventh message, which is a Vigenere cipher:
PXCGRJIEWSVPIQPVRUIQJEJDPOEEJFEQXETOSWDEUDWHJEDLIVANVPMHOCRQFHYLFWLHZAJDPOEEJDPZWOJXWHED
This transmission is encoded via Vigenere Cipher with the key "Edward". It decodes to:
LUGGAGEBASEMENTVARENNESALLIESCANBECLOTHEDASENEMIESENEMIESCANBECLOTHEDASALLIESALWAOSUSEID
LUGGAGE BASEMENT VARENNES ALLIES CAN BE CLOTHED AS ENEMIES. ENEMIES CAN BE CLOTHED AS ALLIES. ALWAYS USE ID
In the example above, LUGGAGE BASEMENT VARENNES may be replaced with any of the locations from the complete list. Going to the specified location reveals the seventh symbol, which prominently displays the word "George" above a crude drawing.
Eighth Message

After finding the seventh symbol, the MCOM's lights turn to a lime colour. Here's an example eighth message, which is an Autokey cipher:
ONADIFZWMPTJSHJGXROUUEKUWFHGJHNWUYMESYQYXXFAWAUGQNMESY
This message decodes to the following, by using an Autokey cipher with passphrase of "George" and alphabet key of ZABCDEFGHIJKLMNOPQRSTUVWXY:
HILLBARNADRIATICFINALBELIEVEEVERYTHINGREPORTEVERYTHING
HILL BARN ADRIATIC FINAL BELIEVE EVERYTHING REPORT EVERYTHING
In the example above, HILL BARN ADRIATIC may be replaced with any of the locations from the complete list. The eighth symbol, which is just the word "LONDON", will be at the specified location.
Ninth Message
After discovering the eighth "LONDON" symbol, the MCOM's lights turn cyan. In a deviation from the normal structure of the Morse code, this cipher is identical for everyone:
ZQBRIPPQOHBFIUPEYLAZAMARZIOZDSYJB
After a long search, it was finally discovered that reversing the above ciphertext and using the reverse as input for an autokey cipher with key "LONDON" and custom alphabet ZABCDEFGHIJKLMNOPQRSTUVWXY yields:
PUKOOLYNOCLABLLIMDNIWWODAHSSTNAIG
If you reverse this output, it reads:
GIANTSSHADOWWINDMILLBALCONYLOOKUP
GIANTS SHADOW WINDMILL BALCONY LOOK UP
A Beginning
The final Morse code, once deciphered, directs the player to the balcony of a windmill on the map Giant's Shadow; specifically, the windmill nearest to the German spawn point. Standing on the balcony of the windmill and looking outward/slightly upwards (video) while waiting for exactly two minutes will trigger a courier pigeon to swoop past the player. The same dramatic sound effect heard when viewing the symbols will play, and it is a this point that a new dogtag becomes available to the player. The tag is named "A Beginning", and has the description "You've found something that does not belong to you". It should be noted that a player will only be able to trigger the pigeon if their MCOM is on the cyan lights stage (stage 9) - you cannot skip the previous stages. If the dramatic sound does not trigger when the pigeon passes, the process must be repeated until the sound is triggered. Some reports indicate that the sound will not trigger unless the pigeon passes through the player, touching them. Nonetheless, if the pigeon is flying past you, you are at the right stage and have completed the necessary prerequisites.
In addition to the dogtag, the player's MCOM lights will change to a red color. Another Morse code message can be heard with headphones, but at a lower pitch than before, and accompanied by eerie background noise and apparent screaming (video). The message decodes to:
MASTER MAN
The code repeats indefinitely. The meaning of MASTER MAN has yet to be determined, and the whispering/screaming noises in the background have yet to be clearly transcribed. It has been noted that the Morse code definitely has a space between "Master" and "Man".
One popular but unproven interpretation of the MASTER MAN code is that it referse to Charles Masterman, a prominent British politician who worked in the propaganda department during WWI. Reinforcing this theory is the presence of the letters "CM", found on the dogtag, which could be Charles Masterman's initials. However, the presence of a space in the Morse code detracts from this theory.
Another theory is that MASTER MAN refers to a radio operator, as shown below. As shown, he has access to telegraphs and colored light signals on a master control board. Through an in-game message by a DICE employee, we were told that "Red is a signal color", in response to queries about the red MCOM light.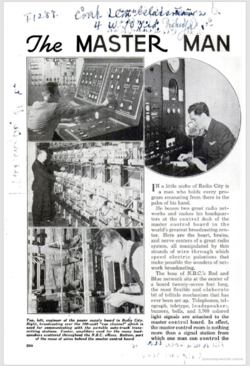 Additional Resources
All the MCOM station light colours:
The following image was datamined after the release of the February 14, 2017 patch: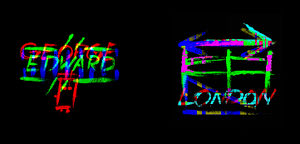 Between its colour channels, this image contains all of the symbols mentioned above.
They Shall Not Pass
On March 14, the "They Shall Not Pass" DLC became accessible for Premium Pass owners. The DLC added a variety of new features, including 4 new maps: Verdun Heights, Soissons, Rupture, and Fort De Vaux.
The ARG had no further developments until April 27.
Records and Gramophones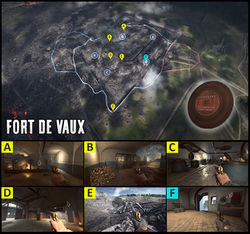 On Fort de Vaux, a vinyl record can be found hidden in different places, pictured right. Much like the headphones, the records are indestructible and can be found on every server - only one record spawns at a time, in one of the 5 discovered spawn locations. These records were stationary physics objects until April 27, when the game was updated to allow the player to pick them up.
There is also a gramophone hidden on Fort de Vaux. Bringing a record to the gramophones and pressing the interact button, it plays a muffled piano sound that can be viewed here. The song plays at 80bpm, with all natural notes. The song spans 4 octaves. Every note is repeated at least once. Using the French musical cryptogram, the message can be decoded as follows:
SO YOU ARE HERE FOR THE SECRET THAT LIES BELOW VAUX. MAKE SURE YOU ARE READY FOR THIS JOURNEY.
DO NOT THINK IT WILL BE EASY, AND DO NOT EXPECT ANY REWARD. ALL YOU WILL FIND IS DEATH.
A HINT; THAT IS ALL I HAVE FOR YOU, SO LISTEN CLOSELY:
THE MEN THAT LIVED HERE KNEW ITS SECRETS. SEARCH WHERE THEY RESTED WHEN THEY DID NOT WORK.

After bringing a record to the gramophone, an array of numbers and letters appears on a nearby book: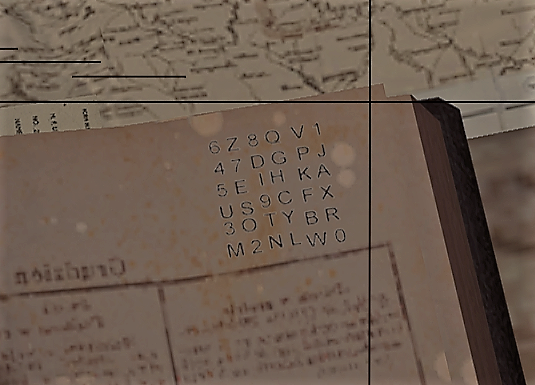 This array is actually a "Key Square" which can be used along with a keyword to decipher an ADFGVX Cipher.
Chairs and Morse
On Fort De Vaux, three different chairs can be found. If the player stands directly on the chair, there will be a blinking light in its line of sight. The blinks are Morse code. Once translated, all of the messages contained a sequence of pairs of letters. Every sequence can easily be identified as an ADFGVX Cipher due to the fact that the pairs are only composed of letters A, D, F, G, V, and X.
Using the Key Square that was previously found in [Records and Gramophones] and different keywords, these translate to phrases in German.
The decoded phrases are instructions triggering the Megalodon event.
Chair in the panel room between A and C
Morse decodes to:
FF DG DF DF VD FG GV FD FF FD FG FX FV FV GF GF GG FG DG VD VF XF XF VX VX FG XD FV VF FF FF XD FV DF GF XF FX FX FD FX XD DX FF FD VD FG DA GA FA GD DD FF XD GD VF GF DF FF DV VV VG FV DX FV GG VF VG XG FX GF AD VD VD FD DG FD DV DF VX

ADFGVX Keyword: BAREBOAT
ADFGVX Plaintext:
DREITREUESEELENWERDENDABENOETIGTWOESOFFENSICHTLICHISWOESDUNKELISTUNDTIEFIMPRECK

ADFGVX translation:
Drei treue Seelen werden da benoetigt, wo es offensichtlich ist, wo es dunkel ist und tief im Dreck.

German to English:
Three faithful souls will be needed where it's obvious, dark, and deep in the dirt.

Chair in the Kitchen
Morse decodes to:
VG GV FF XX VV VF FF FV GF DX XX FF DX DX VF GF DF FX FF DV DV FG DF AF DF GG XX VV FF FX VF XF GF FV XF XD GX AD DX GF GG GV FX VD XD FG VV VD FG

ADFGVX Keyword: BFEEISLOVE
ADFGVX Plaintext:
BRINGSACRIFICESTILLTHEWATERTURNSREDMAKEITPERSONAL

Properly spaced:
Bring sacrifices till the water turns red.  Make it personal.

Chair in the Ammunition Depot
Morse decodes to:
GF DV DG XG AF XV XA FF XF DD XV DG DX DG FV VX DX VF VD AA FG VA XX FG VX VF DG AF XG GV FF DF GF VF VF GV GD XV FG FD XX

Direct ADFGVX translation:
ADFGVX Keyword: RACER
ADFGVX Plaintext:
LABETEDORTSOUSVAUXSEULLEBRUITLAREVEILLERA

Formatted ADFGVX translation:
La bête dort sous Vaux. Seul le bruit la réveillera.

French to English:
The beast sleeps under Vaux. Only noise will wake it up.

Fort De Vaux - Valves and Megalodon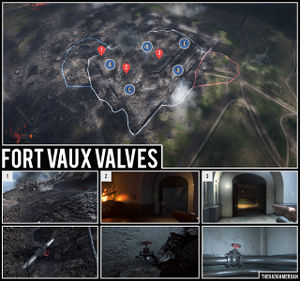 On Fort de Vaux, three turnable valves can be found across the map. If 3 players coordinate and turn these 3 valves at the same time, a puddle fills up near point C. An explosive grenade must then be thrown in the hole near B point. After 3-4 people die inside the puddle created by turning the valves, the puddle turns red with blood, and the megalodon will eventually jump out: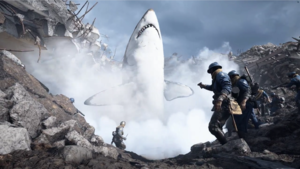 It is unclear whether the presence of the shark is tied to the rest of the ARG. Worth noting is that the records found on Fort De Vaux read Les Requins and You're gonna need a bigger moat. "Requins" is french for "sharks" and "You're gonna need a bigger moat" is a reference to Jaws. The fact that there are shark-related phrases on the records suggest that the shark and the records may be connected.
This investigation is still developing, and this page will be updated accordingly as new leads emerge.