Frog Fractions 2/Themes
From Game Detectives Wiki
Main Page > List of Investigations > Frog Fractions 2 > Themes The following are themes and common terms that have appeared throughout the ARG.
Time travel
Since the original kickstarter video, time travel has appeared to be the overacrhing theme to the ARG.
Occurrences
Kickstarter Video
UC Berkley Event
Ridermail in THD
Time-travel.club
Justin Bortnick's twitch streams centered around 1901ish
Sparkles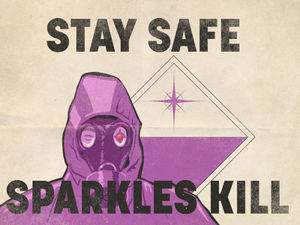 The first reference to Sparkles was a link on trainhotdog.cool, which opened a magic eye style image. When 'decoded', it displayed the message; Danger: Sparkles! Following that, we have learned that sparkles are related to the Decay, and that the resistance is fighting against them.
Occurrences
In the all logins, on the requisitions page it lists "Anti-Sparkle lotion"
In the Samuel login, on his requisitions page it lists "Sparkles (contained, pressurized)"
Also on Samuel, Experiment 004 - Synthesis of Beer from Sparkles
In the Gadsby login, "the sparkly annihilation of our species"
In the Vasquez login, "Deployable Anti-Sparkle Field Shield Array"
DANGER SPARKLES
Samuel's email message to No. 6 via the client:
No. 6, 
Speaking in my capacity as military liason to science, I want to let you know that the latest anti-sparkle suits are a rousing success.  I'll have an official report on your desk by Tuesday, but yesterday's field operation allowed us to directly take full exposure for half an hour with no adverse effects.  Tell the boys in the lab great work, and look out for the report soon.  
-Lt. Samuel

Decay
The apparent main enemy of the Resistance.
Occurrences
The decay is mentioned in the greeting of the Gadsby login:
Our nemesis is one you know all too well; the decay has changed the landscape of the earth and irreparably altered the  path of mankind. As we are unable to combat our foe head-on, the resistance exists to win humanity's liberation through covert operations and advanced technology of types unavailable even to our most powerful enemies. United, we stand between the decay and the sparkly annihilation of our species.

It's also mentioned on Justin's business card.
They arrived at dusk. The experiments had been wildly successful, more so than we could have hoped or feared. At first, we welcomed them. The people of Tunisia are friendly and, generally, we expected that our visitors would treat us with the same wonder and amazement with which we regarded them. That could not have been further from the truth. They did not care about our presence, or lives, or cities, or us. They went about their brutal business as if we were ants in their path: with a complete disregard for our existence. Their capability for warfare thwarted our greatest weaponry, and their unearthly abilities countered the strategies of our greatest military and scientific leaders. As the decay radiated out like a cancer from the Tunisian coast, those in power around the world watched in helplesness, knowing that soon their nations would suffer the same fate as outs. There are at this point in history few of us remaining. Those who survived have banded together under the guidance of we original six, though at this point only four remain. Our numbers are smaller by the day, and our enemy has all but forgotten us. Their victory was total, an[d] out defeat pushed our species to the brink of extinction. We now resist the decay. We hide. We wait. And we plan. -Excerpt from An Oral History of the Decay, Interview 8674-B 

Decayed Joshua login
Party Lounge Message
This seems like a secure place to hide information, so here goes: watch out! You may be using this Party Lounge to take your mind off of the grueling reality outside this base. You may be secure in your position as a high-ranking resistance officer. Be warned: danger lurks in even the safest of places. Do you know what relationship Numbers 1, 3, 5 and 6 have to the decay? Have you never wondered what happened to Numbers 2 and 4? Have you questioned the abductions of individuals from prior eras, or the futures you are trying to prevent? Stay alert. I'll be in touch as I am able, but do not look for me - it may be some time until my next communication is able to get through to you.

Resistant twitter: https://twitter.com/RESIST_DECAY
decytruth.info
THD 18: Nightcore Night Court Around 23 minutes into the podcast you can hear the train conductor voice say, "Attention Passengers: Don't believe his lies. Find the truth about the decay. Thank you."
THD 21: Shark Lips Part of a speech from MYST recut: "Thank you for bringing the red page." "Thank you for breaking the scripts. You must. YOU MUST! I need/mean (help? not sure here). (something else I can't make out). STOP DECAY. DON'T WASTE TIME."
Butts
Throughout the ARG, the word "butts" has been used to confirm involvement with the ARG or as a funny reward for effort
| Butts Reference | How it was found |
| --- | --- |
| https://twinbread.com/butts.html | On twinbread.com's home page the bottom says "This site is best viewed with Netscape Navigator 3.1 or Higher!", if clicked it takes to the link shown and simply says "butts" |
| https://twinbread.com/recipie36.html | This is a list of primes but several primes are missing, when the missing primes are used to draw a picture (missing white, others black, you get this image that says Butts |
| "XXbuttsbuttsb" | When entered into the brainfuck interpreter it outputs "```````````" |
| "BUTTSBUTTSB" | at the bottom of the brainfuck message there are some squares and arrows (view here), they translate to BUTTSBUTTSB |
| https://twinbread.com/kernal.html | This is a copy of the Kernal of Truth audio, the mp3 is tagged with butts as the title and NTSC in the description |
| Jim says "Butts" | When Jim approached the group at Berkeley, he said Butts |
| Pj5WaWdWaA== | Translates to base 64 ">>VigVh", fed through brainfuck "BUTTS" |
| Sticker on the frog statue | was on its butt, nothing really under it or anything |
| Train Hot Dog Episode 13 | Titled "Butt Folk" |
| "YnV0dHM= #Resistance" | By @Resist_Decay , the official twitter of the resistance, googling YnV0dHM= returns butts |
| RPP Episode 67 | The genre is Buttscast |
| Twitch stream | Justin went through the best butts of HotS, it's Stitches, if you're curious |
| Gustav Email | In Gustav Klimt's email, there was a message to itself "Note to self," the body read butts |
| UV Writing on box | The box numbers translated to braille that said "With shapely butts they don't play fair" and using the playfair cipher, the key was callipygian, meaning 'having a well-shaped buttocks' |
Cyborgs
The Resistance appears to be making people into Cyborgs in order to better fight the decay.
The 'borg' chess piece images, also using the Borg Gambit
Zagmar's twitter incursion
Train Hot Dog 64 - Mention of Abraham Lincoln becoming the first cyborg in 1901.
In the first stage of the original Frog Fractions, you can become a cyborg frog. In the next stage, you are called Lt. Hops. The frog appears quite ambivalent about being a cyborg given the in game upgrade text.
Chess
For a period of time, there were a large number of references and clues pointing towards Chess. This appears the have culminated in the Musuem of Jurassic Technology Event, where a game of Chess was played for a Mario Amiibo. Since then, no new Chess related clues have appeared.
Occurrences
"In college I would read Through the Looking Glass and make careful notation of where each point in the book corresponded to a chess move"

"In middle school I was the best chess player I knew and would regularly host school-wide tournaments that were widely attended and loved."

"I just can't find my love for playing Chess anymore. I feel bad because I used to love it so much and I still think it's great."

Tunisia
First appearing in THD 14:Discharge as a ridermail, Tunisia has frequently been woven into the lore as the origin of the decay.
Occurrences
A transcript of THD 14's ridermail:
Stardate 1982: just a little joke. Research proceedes as planned on the Chrono Temporal Flux Fusion Engine. We were encouraged when a rice cake appeared in the machine's primary servo dock informing us that several minutes later we would succeed in transporting a rice cake backwards in time. This is a step forward as we previously have only been able to transport inorganic matter. Dwayne and I celebrated with drinks and a viewing of Blade Runner. Rutger Hauer's final speech is brilliant, especially five drinks in. Tomorrow we plan to attempt to transport a living insect, our first test of a live specimen. Wish us luck! 

Justin's GDC 2016 business card
They arrived at dusk. The experiments had been wildly successful, more so than we could have hoped or feared. At first, we welcomed them. The people of Tunisia are friendly and, generally, we expected that our visitors would treat us with the same wonder and amazement with which we regarded them. That could not have been further from the truth. They did not care about our presence, or lives, or cities, or us. They went about their brutal business as if we were ants in their path: with a complete disregard for our existence. Their capability for warfare thwarted our greatest weaponry, and their unearthly abilities countered the strategies of our greatest military and scientific leaders. As the decay radiated out like a cancer from the Tunisian coast, those in power around the world watched in helplesness, knowing that soon their nations would suffer the same fate as outs. There are at this point in history few of us remaining. Those who survived have banded together under the guidance of we original six, though at this point only four remain. Our numbers are smaller by the day, and our enemy has all but forgotten us. Their victory was total, an[d] out defeat pushed our species to the brink of extinction. We now resist the decay. We hide. We wait. And we plan. -Excerpt from An Oral History of the Decay, Interview 8674-B 

Number One's time-travel.club/client.html login password is elmourouj. El Mourouj is a city in Tunisia