Steam Winter 2015:Comic Book
From Game Detectives Wiki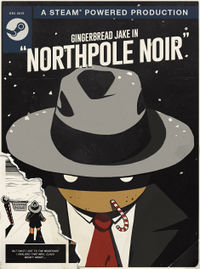 North Pole Noir
North Pole Noir is a comic that was released throughout the Steam Winter Sale 2015. A new page was released daily during the sale, until 11 pages were available. See the page summaries below, or visit the original comic pages on the Steam site.
Cover Page (Original)
December 22nd, 2015
Clue:Hitman Barcode: 094050999014715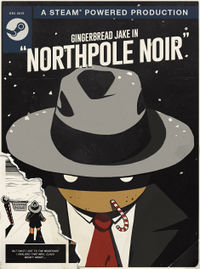 Template:Clear Plot
Cover page. No plot to speak of.
Transcript
DEC 2015
A STEAM®  POWERED PRODUCTION
GINGERBREAD JAKE IN
"NORTHPOLE NOIR"

Cover Page (Updated)
December 24th, 2015
Clue:Hitman Barcode: 094050999014715
Day 1
December 22nd, 2015
Clue:"Blitzen Incident"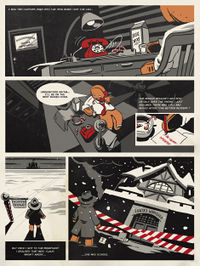 Template:Clear Plot
Private investigator, Gingerbread Jake, is sitting in his office drinking eggnog when the phone rings. An unknown woman on the phone that Jake appears to know tells him briefly that something had happened and he is required. He assumes her brevity is due to dealings with a previous event, 'the Blitzen Incident', and her associated bad feelings. He writes Murder and North Pole on a piece of paper on his desk and tells her he'll get the next sleigh over. In the next panel, Jake is at the North Pole. He sees Santa's Workshop closed off with 'police tape' and some evidence markers on the floor. He realises that Mrs. Claus (the woman on the phone) was not angry, but scared.
Transcript
Narrator: I WAS TWO CARTONS DEEP INTO THE 'NOG WHEN I GOT THE CALL.
Jake (on phone): UNDERSTOOD MA'AM... I'LL BE ON THE NEXT SLEIGH OVER.
Narrator: THE MISSUS WOULDN'T GET INTO DETAILS OVER THE PHONE, I JUST ASSUMED THERE WAS STILL BAD BLOOD AFTER "THE BLITZEN INCIDENT."
[Jake writes on paper]: MURDER / NORTH POLE
Narrator: BUT ONCE I GOT TO THE WORKSHOP I REALIZED THAT MRS. CLAUS WASN'T ANGRY...
Narrator: ...SHE WAS SCARED.

Day 2
December 23rd, 2015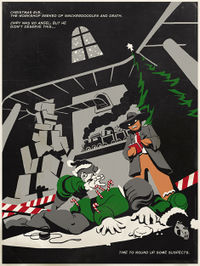 Template:Clear Plot
Jake stands over the body of a deceased elf inside the workshop as he takes notes in his notepad. We learn that the victim is named Zippy. Jake knows he is 'no angel' but ruminates that he doesn't deserve to be murdered. The body appears to have been stabbed with candy canes. Another, distraught elf leaps forward to his companion in grief. Jake decides it is time to start investigating murder suspects.
Transcript
Narrator: CHRISTMAS EVE. THE WORKSHOP REEKED OF SNICKERDOODLES AND DEATH. ZIPPY WAS NO ANGEL, BUT HE DIDN'T DESERVE THIS...
Narrator: TIME TO ROUND UP SOME SUSPECTS.

Day 3
December 24th, 2015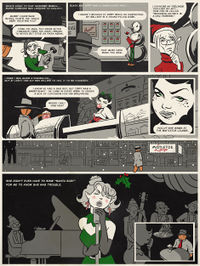 Template:Clear Plot
Jake begins his questioning of the other elves. He asks an elf named Monte about his presumed gambling addiction. Monte responds that since Cinammon took the kids, he had sworn to never set his eyes on "Vixen" again.
Jake visits Blase in his art gallery. Blase tells Jake he has not spoken to Zippy since he trashed his gallery while inebriated on pruno. Upon Jake suggesting that this must have made him mad, Blase responds that he expresses himself through his art and references his latest piece, "Snowman Artiste is a Red Herring".
With no good leads, Jake visits Sparkles at her bakery. She informs him that he was sweet to his girlfriend and bought her cupcakes every week. Jake asks where he can find this girlfriend and Cupcake directs him to, Holly, who sings at the Mistletoe Lounge.
Jake walks into the Mistletoe Lounge and seats himself. He watches Holly performing a song and can instinctively tell she is 'trouble'.
Transcript
Narrator: MONTE LIKED TO PLAY REINDEER GAMES... MAYBE SOMEONE WAS LOOKING TO COLLECT
Jake: MERRY CHRISTMAS MONTE, HOW'S THE TRACK BEEN TREATING YOU?
Monte: COME ON JAKE, YOU KNOW AFTER CINNAMON TOOK THE KIDS I SWORE TO NEVER SET EYES ON VIXEN AGAIN.
Narrator: BLASE AND ZIPPY HAD A COMPLICATED PAST...
Blase: I HAVEN'T SPOKEN TO ZIPPY SINCE HE DESTROYED MY GALLERY IN A PRUNO-FUELLED RAGE.
Jake: THAT MUST HAVE MADE YOU MAD.
Blase: I EXPRESS MY FEELINGS THROUGH ART... THIS ONE IS CALLED "SNOWMAN ARTISTE IS A RED HERRING."
Narrator: I KNEW I WAS BEING STONEWALLED... BUT AT LEAST ONE ELF WAS WILLING TO TELL IT TO ME STRAIGHT.
Ms Cupcake: I KNEW HE HAD A BAD REP, BUT ZIPPY WAS A SWEETHEART - HE CAME IN EVERY WEEK TO ORDER A BOX OF CUPCAKES FOR HIS GIRLFRIEND.
Jake: WHERE CAN I FIND HER?
Ms Cupcake: HOLLY? SHE SINGS AT THE MISTLETOE LOUNGE.
Narrator: SHE DIDN'T EVEN HAVE TO SING "SANTA BABY" FOR ME TO KNOW SHE WAS TROUBLE.

Day 4
December 25th, 2015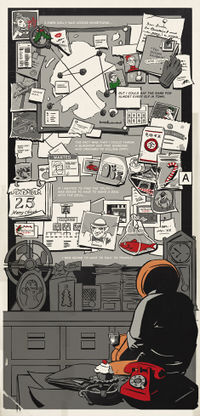 Template:Clear Plot
Jake is seated with a drink in front of a crime board filled with the clues. He appears to speak to himself, stating that he 'knew Holly was hiding something' and mentions the number of enemies that Zippy had. Jake states that in order to find the truth, he would need to make a deal with the devil, Twinkle.
On the crime board, a number of clues of the murder feature prominently, including: a picture of Holly, a copy of the Blitzen Incident case file, a photograph of the Black Ice Boys, a photograph of Twinkle, the Mistletoe Lounge, a calendar with the date, a Chinese New Year envelope, and a red herring fish.
Transcript
Narrator: I KNEW HOLLY WAS HIDING SOMETHING...
Narrator: BUT I COULD SAY THE SAME FOR ALMOST EVERY ELF IN TOWN. 
Narrator: THE FACT WAS THAT I COULD THROW A GUMDROP AND FIND SOMEONE WHO DREAMED OF KILLING ZIPPY.
Narrator: IF I WANTED TO FIND THE TRUTH I WAS GOING TO HAVE TO MAKE A DEAL WITH THE DEVIL...
Narrator: I WAS GOING TO HAVE A TALK WITH TWINKLE.

Day 5
December 26th, 2015
Clue:Entering Code: Hot toddies and maseratis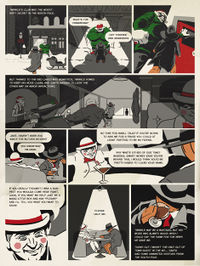 Template:Clear Plot Although the club is not a well-kept secret, it exists due to a deal known as the Red Christmas Armistice. In it, Twinkle agreed to keep his nose clean in return for Santa ignoring minor infractions. Jake heads to Twinkle's club, and gives the bouncer the password, 'Hot toddies and maseratis' to gain entrance. Twinkle mentions that he has not spoken to Jake since the Blitzen Incident. Jake speaks to Twinkle of the crime and requests his help. In return for Jake asking using 'please', Twinkle agrees to give Jake his help.
Transcript
Narrator: TWINKLE'S CLUB WAS THE WORST KEPT SECRET IN THE NORTH POLE.
Doorman: WHATS THE PASSWORD?
Jake: HOT TODDIES AND MASERATIS. 
Narrator: BUT THANKS TO THE RED CHRISTMAS ARMISTICE, TWINKLE VOWED TO KEEP HIS NOSE CLEAN, AND SANTA AGREED TO LOOK THE OTHER WAY ON MINOR INFRACTIONS.
Twinkle: JAKE. HAVEN'T SEEN YOU SINCE THE BLITZEN INCIDENT.
Jake: YOU KNOW WHY I'M HERE.
Twinkle: NO TIME FOR SMALL TALK? IF YOU'RE GOING TO ASK ME FOR A FAVOR YOU COULD AT LEAST PRETEND TO BE MY FRIEND.
Jake: WHY WASTE EITHER OF OUR TIME? BESIDES, SMART MONEY SAYS YOU'RE BEHIND THIS, I THINK YOU'D BE PRETTY EAGER TO CLEAR YOUR NAME.
Twinkle: IF YOU REALLY THOUGH I WAS A SUSPECT YOU WOULDA COME HERE FIRST. LOOK, IF YOU WANT MY HELP JUST BE A GOOD LITTLE BOY AND SAY "PLEASE" AND I'LL TELL YOU WANT TO KNOW.
Jake: PLEASE HELP ME.
Narrator: TWINKLE MAY BE A BASTARD, BUT HIS WORD WAS ALWAYS GOOD: WISH I COULD SAY THE SAME FOR THE NEWS HE GAVE ME.
Narrator: TURNS OUT I WASN'T THE ONLY OUT OF TOWN GUEST IN THE NP... SANTA HAD SOME UNWANTED VISITORS FROM THE SOUTH POLE.

Day 6
December 27th, 2015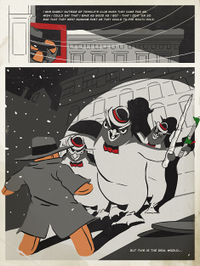 Template:Clear Plot
Outside Twinkle's club, Jake is approached by the Black Ice Boys brandishing weapons.
Transcript
Narrator: I WAS BARELY OUTSIDE OF TWINKLE'S CLUB WHEN THEY CAME FOR ME. WISH I CLOUD SAY THAT I GAVE AS GOOD AS I GOT - THAT I BEAT 'EM SO BAD THAT THEY WENT RUNNING FAST AS THEY COULD TO THE SOUTH POLE.
Narrator: BUT THIS IS THE REAL WORLD...

Day 7
December 28th, 2015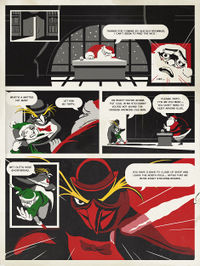 Template:Clear Plot
Santa is searching his desk for the 'nice' list, which seems to be missing, while waiting for Rhombus. Taffy bursts in holding an elf hostage. With a shove, he releases the elf and demands that Santa close his workshop. Taffy gives Santa a deadline of three days to close up shop before he begins 'stacking bodies'.
Transcript
Santa: THANKS FOR COMING SO QUICKLY RHOMBUS, I CAN'T SEEM TO FIND THE NICE -
Santa: LIST...
Taffy: WHAT'S A MATTER FAT MAN?
Santa: LET HIM GO TAFFY.
Taffy: OR WHAT? YOU'RE GONNA PUT COAL IN MY STOCKINGS? YOU'RE NOT GIVING THE ORDERS ANYMORE OLD MAN.
Santa: PLEASE TAFFY. IT'S ME YOU WANT... YOU DON'T NEED TO HURT ANYONE ELSE.
Taffy: GET OUTTA HERE SHORTBREAD.
Taffy: YOU HAVE 3 DAYS TO CLOSE UP SHOP AND LEAVE THE NORTH POLE... AFTER THAT MY BOYS START STACKING PEOPLE.

Day 8
December 29th, 2015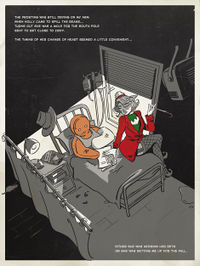 Template:Clear Plot
Jake rests in a hospital bed with a copy of a file in his hand and a magazine called New Detective on the nightstand. Holly sits on the side of the bed, a candy cane dangling loosely in her hand. She discloses to Jake that she is a mole for the South Pole sent to get close to Zippy. Jake is unsure if her confession is sincere or if she is setting him up for the fall.
Transcript
Narrator: THE FROSTING WAS STILL DRYING ON MY ARM WHEN HOLLY CAME TO SPILL THE BEANS... TURNS OUT SHE WAS A MOLE FOR THE SOUTH POLE SENT TO GET CLOSE TO ZIPPY.
Narrator: THE TIMING OF HER CHANGE OF HEART SEEMED A LITTLE CONVENIENT...
Narrator: EITHER SHE WAS HEDGING HER BETS OR SHE WAS SETTING ME UP FOR THE FALL.

Day 9
December 30th, 2015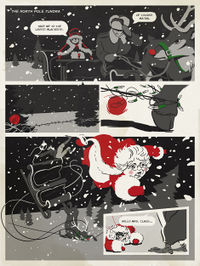 Template:Clear Plot
In a sleigh, Mrs. Claus instructs her coachman to take her to the black site. The reindeer pulling the sleigh appears to have a bright red nose, indicating that it is possibly Rudolph. There is a string of Christmas lights strung between two evergreen trees. The reindeer trips on the lights, overturning the sleigh. A penguin greets Mrs. Claus sinisterly.
Transcript
Narrator: THE NORTH POLE TUNDRA
Mrs. Claus: TAKE ME TO THE LATEST BLACKSITE.
Coachman: OF COURSE MA'AM.
Taffy: HELLO MRS. CLAUS...

Day 10
December 31th, 2015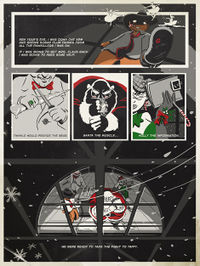 Template:Clear Plot
On New Years' Eve, Jake has his left arm in a cast, signed with the words 'Get better' and a kiss. Under the influence of painkillers, he hatches a plan to get Mrs. Claus back. He calls on Twinkle for gear, Santa for muscle, and Holly for information.
Transcript
Narrator: NEW YEAR'S EVE. I WAS DOWN ONE ARM AND SEEING SUGAR PLUM FAIRIES FROM ALL THE PAINKILLERS I WAS ON. 
Narrator: IF I WAS GOING TO GET MRS. CLAUS BACK I WAS GOING TO NEED SOME HELP.
Narrator: TWINKLE WOULD PROVIDE THE GEAR.
Narrator: SANTA'S THE MUSCLE...
Narrator: HOLLY THE INFORMATION.
Narrator: WE WERE READY TO TAKE THE FIGHT TO TAFFY.

Day 11
January 1st, 2016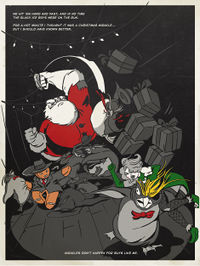 Template:Clear Plot
Santa, Jake and Holly take the fight to the Black Ice Boys, but it appears that Holly was carried off by Taffy.
Transcript
Narrator: WE HIT 'EM HARD AND FAST, AND IN NO TIME THE BLACK ICE BOYS WERE ON THE RUN.
Narrator: FOR A HOT MINUTE I THOUGHT IT WAS A CHRISTMAS MIRACLE... BUT I SHOULD HAVE KNOWN BETTER.
Narrator: MIRACLES DON'T HAPPEN FOR GUYS LIKE ME.

Day 12
January 2nd, 2016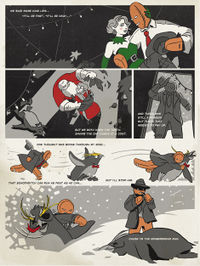 Template:Clear Plot
Ending page. No plot to speak of.
Transcript
Narrator: WE SAID SOME KIND LIES... "IT'LL BE FINE"", "IT'LL BE OKAY..."
Narrator: BUT WE BOTH KNEW THE TRUTH. SAVING THE DAY COMES AT A COST.
Narrator: AND THERE WAS STILL A PENGUIN OUT THERE THAT NEEDED TO PAY UP.
Narrator: ONE THOUGHT WAS GOING THOUGH MY MIND... 
Narrator: THAT SONOFABITCH CAN RUN AS FAST AS HE CAN... 
Narrator: BUT I'LL STOP HIM.
Narrator: CAUSE I'M THE GINGERBREAD MAN.

Comic pages in other languages
Last Year's Comic
Can be viewed on steam's website.